Happy Halloween! As we all know, October is a big time for most retailers selling edible products, particularly candy. According to a study by Investopedia.com, Americans spent over 10 billion dollars on Halloween last year, a record high. Roughly 3 billion of this is just on candy. This year we expect to see even more money spent overall, which begs the question, do the sales of edibles within the cannabis industry also reflect this behavior?
As a reminder, edibles are defined as products containing THC that can be consumed by eating or drinking. There are many variations of edibles sold at retailers. These include gummies, chocolate, mints, juices, and much more. Customers who want to make their own edibles often purchase the flower itself. By de-carbing and mixing the broken-down flower with common cooking oils, they obtain cannabis oil to make whatever food products they want.
Somewhat like the rest of the food industry, we do see some seasonal behavior from just looking at edible sales. From sampling internal data, we see an increase in edibles sales in the months leading up to and including October.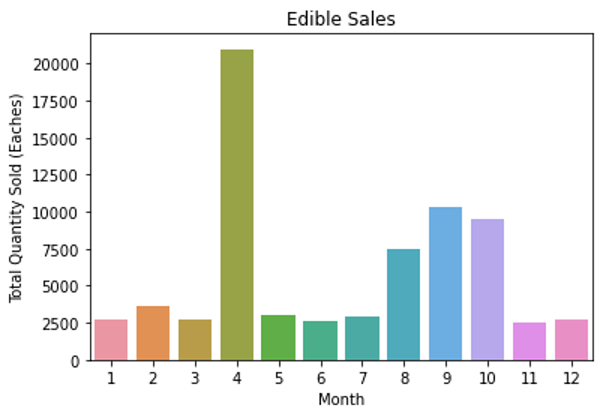 The quirk that the marijuana industry has is April, which appears to vastly outpace the holiday season due to a particular holiday in that month. It should also be noted that at the time of writing, there's still a lot of October data to ingest, so there very well be sales that happen over the next week or so that make October the second highest selling month.
Another thing to consider is "Croptober," which refers to the time of year when cannabis cultivation licenses harvest the most cannabis. Generally, this time period spans from September to November. This would result in a higher supply of weed products and, given a relatively consistent level of demand, lower prices overall. This could also help explain the increase in edible sales around this time.