By Nathan DiCamillo
A Denver-based fintech says it believes it's found a key to figuring out whether a legally sanctioned pot grower is engaged in suspicious activity — energy output. A large-scale pot greenhouse uses eight times as much electricity per square foot compared to an average U.S. office building, according to one study.
NCS Analytics, which is building a data portal between banks, two states and marijuana related businesses, or MRBs, to sift through information for suspicious activity is adding a method to track pot growers' energy output. Such output data can become a reliable metric for banks to ensure clients are clean, a clear concern for an industry still seeking clarity from lawmakers on serving cannabis businesses, said Adam Crabtree, the firm's chief executive. "One of the struggles in any of the cash-intensive industries is that you're relying almost exclusively on self-reported data," Crabtree said. "Being able to tap into something like power usage, you are getting data that is not self-reported."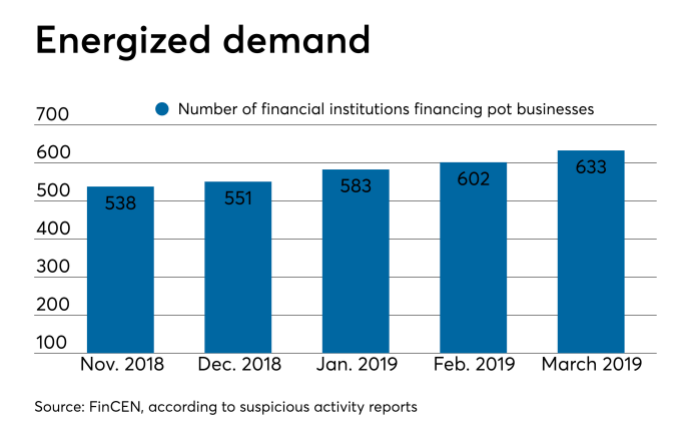 Crabtree claims the NCS technology can detect fluctuations in energy use. The data comes through a partnership with a startup called UtilityAPI. The Oakland, Calif., company said it has access to data from 30 utilities across the country, covering 50% of the population overall and 90% of the solar market.
The premise behind tracking energy output is that if a grower is using more power than what should be expected based on the pot they're producing, then they might be selling pot out the back door. On the other hand, if a grower is producing more pot than what's expected based on the energy they're using, that business might be introducing grow from another source. "Imagine the sophistication you would have to manipulate your power usage," Crabtree said. "It's hard enough for people to remember to flip off a light, let alone hide completely nefarious activities."
It's estimated the required electricity to produce one joint is the equivalent of running a 100- watt bulb for 75 hours. Pot growers take up 4% of the power use in the city of Denver, according to the city's Department of Public Health and Environment.
Xcel Energy saw pot businesses taking up more than 1% of its customers total energy use in 2012 when recreational marijuana was legalized in Colorado. In 2018, the energy use from marijuana-related businesses was 3.98% of the company's total energy base."Growers are 24-hour operations, so they tend to be more like a 24-hour data center or a bigbox store," said Mark Stutz, senior media representative at Xcel.
Since growers usually takeover warehouses, Xcel had to upgrade transformer lines to those facilities during the first few years of the industry burgeoning because of the energy output created by industry-specific utilities like grow lights. As with the data portal he's built between banks, the state and marijuana-related banking for tracking tax and other kinds of data, cannabis businesses have to agree to having their energy use monitored.
The deal with NCS is UtilityAPI's first foray into banking. Devin Hampton, UtilityAPI's chief executive, said he learned how useful energy data was to a cash-intensive industry like cannabis banking when Crabtree reached out last June.
"We weren't thinking about verifying actual energy use, therefore actual operations, for cash intensive industries," Hampton said. He thought his firm's first work in banking would be with the investment side of banking, especially real estate investment trusts "and other types of vehicles where people are actually investing in ongoing operations of assets," he said. While regtech tools for the pot banking industry are becoming more sophisticated, demand for pot banking is at an all-time high. The most recent numbers from the Financial Crimes Enforcement Network show that in March 2019 there were 633 pot banking financial institutions in the U.S., based on submissions of suspicious activity reports. That was up from 602 institutions in February and 583 in January.
"There are more MRBs that need banking than we can possibly provide," said Katrina Skinner, president of Safe Harbor Services in Denver.
This post originally appeared on American Banker